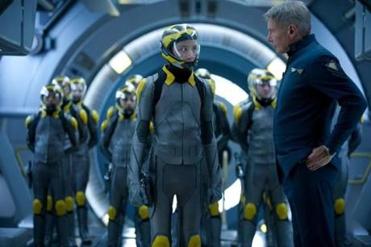 Not sure how I missed this new still from last week, but here's a new look at Ender and his Launchy group with Graff, who has a really odd stance here. This one is from the Boston Globe talking about "trouble ahead" with the fall movie season. (via Ender News)
So far this is the biggest size available, but if we get a bigger one we'll be sure to let you know!
Also in new imagery is a montage of Petra posted to the official Ender's Game social media channels today.
The shot of Petra standing is a new one. I'm still a little bothered by her really long hair. Since I have long hair myself, I know what a bother hair that length can be, so it doesn't make much sense to me that she'd have it at this length in Battle School. What do you guys think?