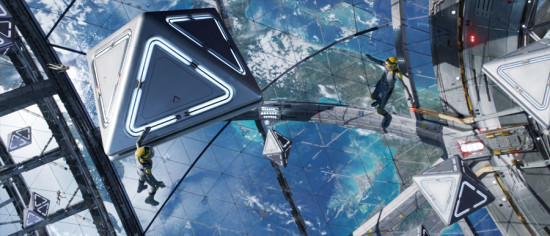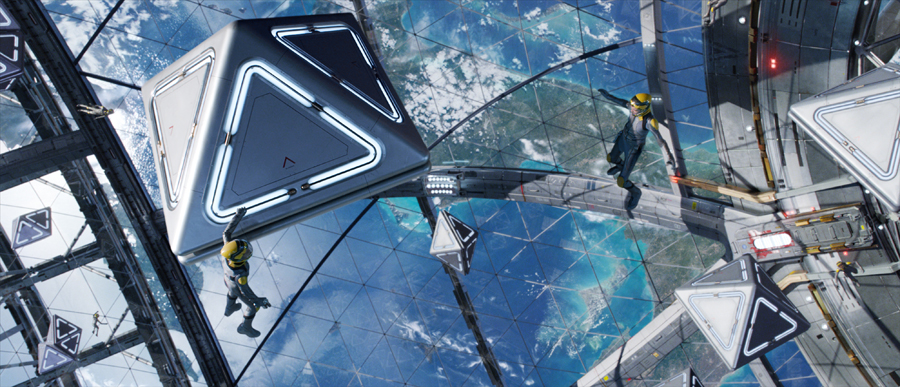 The LA Times has published a set visit report and an interview with director Gavin Hood and gives us a bit more insight on how he came up with the Battle Room's design. In addition to that, we have a photo of Ender and Bean in the Battle Room!
As written in the novel, the Battle Room feels like a big, dark room, and the "Ender's Game" combat situations unfold on something akin to personal computers.

"You had to feel it was the real thing — not a video game on a screen," Orci said. "Visually, it had to be visceral, a you-are-there experience."

Hood says two chance visits to Los Angeles landmarks — Griffith Observatory for a planetarium show and Disney Hall for a symphony concert — helped him solve two of his most pressing visual obstacles.

During the planetarium show, Hood realized that the battling spaceships could fly around Ender and his subcommanders like so many spinning galaxies inside the domed Griffith theater, immersing the cast (and the audience) in the clashes. And in watching Gustavo Dudamel lead the Los Angeles Philharmonic, the filmmaker figured out that Ender could conduct his team of pilots as if he were guiding them through a prestissimo symphony — front and center, orchestrating everyone's movements in harmony.

Hood's production designers also enveloped the Battle Room with panoramic windows, so that the cadets were both figuratively and literally floating amid the stars. "What is the point of going into space and being stuck in a black box?" Hood said.
You can read the entire piece at LA Time's Hero Complex.