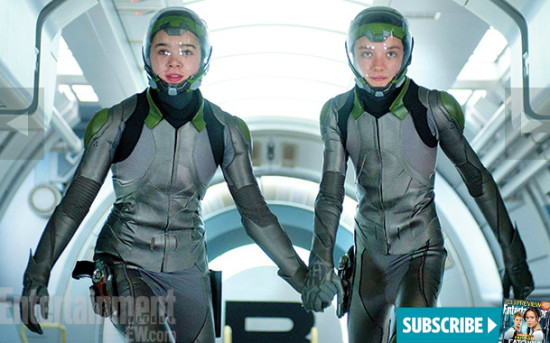 We keep hearing talk about how hot the flash suits were and recently talked to costume designer Christine Bieselin-Clark about how they had to wear another layer under the suits too! In this interview with USA Today, Asa and Hailee go into further detail on what it was like to work in the wire harness and the flash suits.
The filmmakers used rigs to hoist the actors and make them feel as if they were in space. "If you're scared of heights, you just had to get over it," Butterfield says. "There's nothing you can do about it. We all had a great time up there."

Steinfeld recalls about three months spent on wires "floating around, flipping around, being thrown into pads."

"And shooting people," Butterfield says.

"The list goes on," says Steinfeld, who plays Petra Arkanian, Ender's friend at Battle School. "I don't really think we had time to worry about it."

"I guess we don't really know any different," Steinfeld says. "It is very uncomfortable and hard at first, to say the least."

[…] "It was like a sauna," Butterfield says.

Because of the sound, filmmakers couldn't run air conditioning to keep them cool, says Steinfeld, though Butterfield notes that they did have fans in their 8-pound helmets, "which kept it from fogging up."

[…]

"I doubt they were comfortable 50 years in the future," Butterfield figures.

"Yeah, I don't know how we managed," Steinfeld adds before giving him a high-five. "Maybe we'll see. We'll go to space in 50 years and see if the spacesuits are comfortable."
Read the whole interview at USA Today.
Definitely sounds like they had a tough time doing the Battle Room scenes, but from what we've seen in the trailers so far, it looks pretty fantastic. And to think I thought my flight suit costume was too hot!