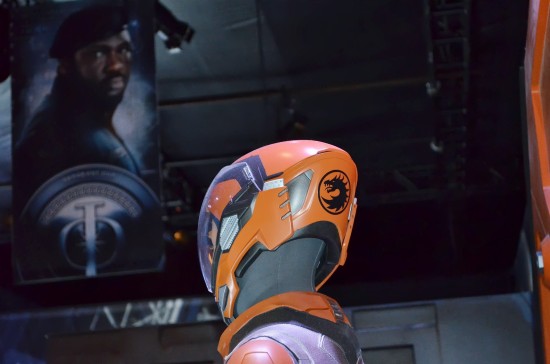 While Comic Con can be described as amazing and fun, it's also crazy and hectic. On Saturday, after meeting some of the cast of The Hunger Games: Catching Fire I headed over to Poppin' Some Tags where the Costume Designers Guild was holding a panel with designers from various movies, including Ender's Game.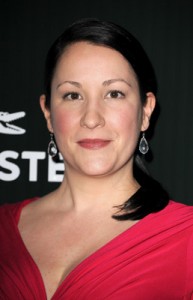 After the panel, Ender's Game costume designer Christine Bieselin-Clark was able to squeeze in a few minutes with me, which we ended up doing as we walked to her autograph session in Sails Pavilion. It was different and fun and a real pleasure to talk with her.
What did you look to for inspiration for Ender's Game?
It's a military world. It's a very structured society that we're living in […] but it's an international military force, so I looked at tons and tons of military uniforms from all countries, all time periods, just looking for things that kind of spoke to us, that gave the audience the feeling that this was an international association of authority.
That's got to be intimidating, it's planet-wide.
Oh yeah! And so you don't it to be American military. You want it to feel like it has some sensibilities of an international feeling so we did a ton of research on uniforms just across the board. And then that's the world, but then we go to the whole flash suit thing and that was… we looked at so much stuff for reference. We looked at the usual suspects of motorcross, but you have to look at references of what you don't want to do and a lot of motorcross stuff, a lot of athletic things, tons and tons of other suits from other films cause you also don't want to be repetitive, you need it to be unique. But I think the whole thing with the flash suit was to try to make something that seemed purposeful to what the storyline was and take pieces from the book that informed what that should look like and then just do a lot of research on existing kind of protective gear across the board.
You mentioned in the panel that doing TRON was helpful for you, but was it also a hindrance because you didn't want to copy it?
Well, I think it's always kind of good to have done a movie you don't want to copy cause then you won't copy yourself, so I feel like I learned a lot on TRON about processes of costume making and special effects costuming. That really helped us make very successful suits on Ender's Game that I think perhaps another designer who might not have had as much practical experience would have had a more difficult time because it's not only to make something that looks beautiful when he's standing still, these are suits that go into zero g and everyone's wearing them, background kids, and so I feel like the experience on TRON really helped me as far as function goes and how to make things really work while they're looking good.
They talk a lot about how hard it was to work in the wires and stuff so how do you wash those flash suits?
We have all kinds of special creepy techniques. Basically everybody wears something underneath that we can launder. So we used a lot of under armour and sports gear underneath that's like skin-tight.
Oh, so they were double layered then!
Oh yeah! Oh, yeah! And so then that can be washed every day and sometimes we'd even change that out at lunch time. Sometimes you would wear one in the morning and one in the afternoon and then the suits themselves we just disinfected every day. And I can't tell you all the secrets behind that, but sometimes we used vodka. For real. It's an old costuming trick, you mix vodka with water and you put it in spray bottles, it kills all the germs.
You said Gavin was very open to your ideas, could you briefly describe your creative process for Ender's Game with him?
I have worked with him previously. I was the assistant designer on Rendition and the assistant designer on Wolverine for a short time, so had a relationship with him already where I think we trusted each other even from the get-go. And I think that he knew that I could help guide this process and I think he had a lot of trust for me which I couldn't have been more appreciative for.
It helps that he's super nice.
He is so nice. Gavin's one of those people who has these very distinct ideas and a lot of thoughts about what he wants to do, but he's extremely encouraging of you to contribute your ideas so we talked a lot in adjectives and adverbs and descriptive words about how we wanted things to feel or come across, but how we got there was open for discussion, negotiation. So that was kind of the process with him as we would say, "Oh, we want this to feel this way." and then I go away and I cook some stuff up and be like, "Hey, does that feel like that to you?" and then that would help drive the process.
So are you a fan of science fiction outside your work?
It's funny, I never was. I used to say it's funny I keep designing these films that I would never really go see. But in designing them and then becoming a part of this world and this fanbase, I have a lot of reverence for it. I have a lot of respect for the fans that come to this and have such a love for it and it's been a real adventure and now I have to say I'm a sci-fi girl. I never thought I would say that, but I am.
—
In an upcoming episode of EnderCast, Aramis Knight, who plays Bean, tells us a bit more about those layers they had to wear, so be sure to keep an eye out for that! Our sincerest thanks to Christine for taking time out of her schedule to talk to us!