by Elizabeth Spencer
Ho, Launchies!  Crystal and I have just returned home after an absolutely fantastic (if exhausting) five days at San Diego Comic-Con!  We had a marvelous time exploring the sights and sounds of one of the coolest places around… We posed with Jedi, sat in the Iron Throne, explored a replica of Bag End made entirely of Legos, and one night were ushered into a bunker to stock up on supplies for the upcoming zombie apocalypse.  Oh, wait.  That was just me.  Crystal spent her whole trip camped out for Hall H.
And oh yeah, we also did a bunch of stuff for "Ender's Game."  It's been a busy few days, so our apologies for the late reporting!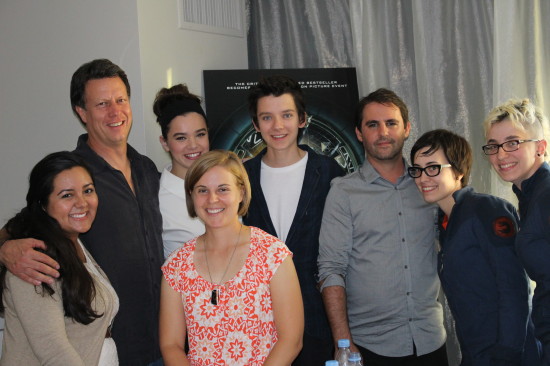 On Thursday, July 18, I had the privilege of sitting down to a roundtable discussion with "Ender's Game" Writer/Director Gavin Hood, Producer Roberto Orci, Ender Wiggin-actor Asa Butterfield, and Petra Arkanian-actress Hailee Steinfeld.  Also in attendance were Kelly and Aidan (from Ender News) and Cassandra (from Ender's Ansible).
The four of us had an awesome opportunity to get right down to it and ask the questions that real fans want answered.  So here I present to you our biggest takeaways:
1)      The New Trailer!  Yes, there's a new trailer, and for those of us who didn't get to see it during the Hall H panel, it will be released to the public with the premiere of "Elysium," due to hit theaters on August 9th.  There's a chance that it may also hit the internet a few days prior, so we'll keep our eyes peeled!
2)      Sequels!  Everyone's being pretty tight-lipped about possible sequels right now, and for good reason.  As Gavin reminds us, "There's a large amount of money at stake and we would need the approval of the studio."  Gavin and Bob are all for it, but couldn't speak to possible plots or timeframes.  The fact that this first adaptation even made it off the ground was miracle enough.  As Gavin said, "This property is something that people wanted to make for a long time and didn't, couldn't, wouldn't, and so I think everybody is a little bit in shock that we actually made it."  So no news for now, but we'll keep our ears to the ground.
3)      Locke and Demosthenes – Gone for Good.  Gavin spoke about cutting the Locke and Demosthenes sub-plot, a matter of contention among some fans: "The main decision that we made is that we would stick with Ender Wiggin, never do a scene without him.  Any scene that happened without him, the only ones we chose to do were a couple of scenes with Graff and Anderson where they talk about him, so that the audience is truly on Ender's journey in order to bond you visually and cinematically with this lead character and identify with him."
This makes perfect sense for a two-hour movie, and while some fans may be upset that this story line doesn't make it to the screen, we think it was the right move on the writer's part.  While Peter and Valentine are obviously central figures to the plot, it is because they form a foundation for Ender's own journey, and their activities outside of Ender's world don't serve to advance the story that Gavin wants to tell.    Now if we ever do get those sequels, they might have to fit in a bit of, "Meanwhile, back on Earth…"
4)      On Violence: Gavin and Bob answered a few questions regarding the level of violence that they adapted from book to screen.  Those who have read the book know that there are several severely violent actions that are vital to the development of Ender's character and the progression of his journey.
To avoid spoilers, we won't go into specific details here.  But from what we heard, it sounds like the team found a good balance between showing the seriousness of the act without dragging it out for the sake of spectacle.  As Gavin Hood explained: "We're walking a very fine line in a PG-13 world…you can't have an "R" movie where half the people who love the book can't see the movie, and yet you also don't want to soften it up… We never wanted to indulge the violence for the sake of violence. We wanted the violence to happen, for you to feel the shock of it in a real way, but more importantly for you to deal with the aftermath of the violence…"
The most important thing, he said, was to show what effect the violence had on the characters (specifically Ender) and how the impact of that violence carried across in their reactions.  Gavin spoke several times throughout the interview about the abilities of all the actors to portray subtle, emotional, and nuanced performances, helping to convey the depth of what is largely an internal struggle that takes place in Ender's own mind.  We can't wait to see how these scenes play out on film.
5)      Why Not Reading The Book Might Be A Good Thing: For fans of any book-to-screen adaptation, it can be hard to imagine that someone would take on a movie role without having read the source material.  We know that Asa Butterfield and Hailee Steinfeld both read the novel, but other actors (such as Harrison Ford and Viola Davis) did not.  When asked about how this affected their understanding of the characters, Gavin stood firmly behind the script's ability to provide all that was necessary for the actors to comprehend their roles and motivations.
In fact, he said, not reading the book can sometimes be a good thing: "Their feeling was that to engage in conversations about scenes that are not in the movie isn't helpful.  They need to know that what's on that page in the script, which is going to be on screen, is going to have sufficient weight and substance and merit to give them fully-rounded characters in the movie […] There's a lot of actors who don't want to read books, some do – these guys (indicating Asa and Hailee) used the book as a form of research, and fantastically so.  Other actors say, 'Wait a minute – we're not making the book.  You're asking me to play the role based on the script.  This script better have enough substance and weight and nuance for me to feel that my character is going to be nuanced.'
And that was their approach, which I think is absolutely fine."
6)      Ender and Petra…In Love?  Our group went ahead and asked the big question that's had many fans worried over the last few weeks.  Ever since photos were released showing Ender and Petra holding hands, as well as Petra grasping Ender's arm, we have wondered about the possibility that they built a teen romance into the script. Say it isn't so!
While the answers we received from Gavin, Bob, Asa, and Hailee all point to a platonic relationship, there's still a little doubt in my mind about how much teen angst will actually show up on the screen.  Asa told us that "I wouldn't say it was anything at all like a love relationship, cause they're both dependent on each other for support.  They're both in the same situation, they're both not entirely accepted by the community they're in."  Hailee also spoke about the similarities between Ender and Petra, and how there is a connection formed between them based on that outcast role and the need for acceptance.
"I think that it's sort of expected in a way, and what's great about the relationship between them is – not only did I not really see it as sort of a romance thing, but I don't think the characters do either.  I think they're looking for a friend, and somebody to trust and feel comfortable with, and that doesn't necessarily mean boyfriend/girlfriend or whatever."
Gavin summed it up by assuring us that "there is genuine tenderness between these two characters at certain moments, and there are genuinely sweet moments – when she teaches him how to shoot, it's both exciting and really tender, but it's not, 'let's be cute.'  None of that, no."
7)      And "Ender's Shadow?"  Also Out.  Gavin Hood confirmed that there will be none of "Ender's Shadow" in this movie – Bean's storyline will be restricted to what is present in "Ender's Game" and nothing more.  It was hard enough, Gavin said, trying to fit as much as they could of the original novel in to a two-hour movie, and they chose early on to stick to Ender's story alone.
And that's just about it, folks!  A few more questions were tossed around about the score and Asa's American accent (he practiced in the shower), and we learned that they are 90-95% done with the final cut of the movie.
All in all, I'd say it was a pretty successful day.  A huge thanks to Gavin, Bob, Asa, and Hailee for making time to sit down with the four of us – every time I hear them talk, I am more and more confident that this adaptation is in the right hands, and will meet our expectations and then some!
Stay tuned for some additional post- Comic-Con write-ups, and feel free to ask any questions about our time in San Diego!  More pics will also be coming soon!