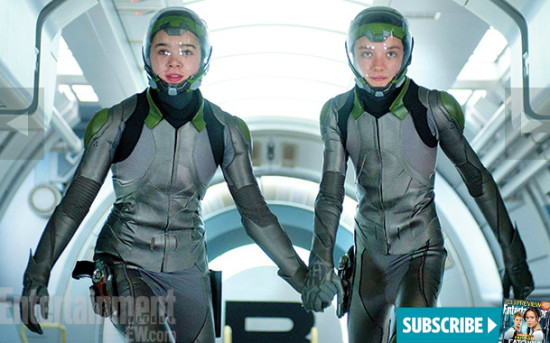 Thanks to a slideshow put up by Entertainment Weekly for their Comic Con 2013 preview, we've got a new look at Ender (Asa Butterfield, right) and Petra (Hailee Steinfeld, left) holding hands as they're about to jump into the Battle Room.
The photo gives us a better look at the flash guns, as can be seen on Petra's hip, but it also brings up an inevitable question: are Petra and Ender a "thing" in the movie?
In the book, Petra acts more like a tough older sister to Ender when he first joins Salamander Army under Bonzo. But Ender was around 7 or 8 at that point while in the book he'll be around 10 or 11. When we first saw Petra in the trailer, she was giving a sly smile to Ender.
Now in this photo we see them holding hands as they get ready to go into the Battle Room, something that Ender has presumably already done himself because we've seen him in the Battle Room wearing launchy colors. So what do you guys think? Do Petra and Ender have a different type of connection in the film? And if they did, how do you feel about it?
Source: EW.com