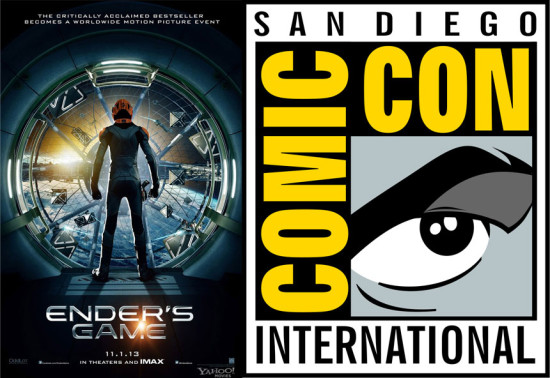 Are you an Ender's Game fan that will be going to San Diego Comic Con 2013? Are you planning on going to the Ender's Game Fan Experience, which will feature 8 elaborate sets from the movie?
What if I told you that you could go to an invite-only exclusive preview of the event on Wednesday night and avoid all the crowds when the experience opens to the public on Thursday night?
EnderWiggin.net has 25 admit-2 passes to this preview for July 17. This giveaway is open worldwide with one requirement: you must be able to be in San Diego, California on the night of Wednesday, July 17, 2013.
I know some of you will be tempted to enter even if you're not going to Comic Con, but please be considerate of those able to attend and make use of these tickets.
To enter, simply comment here and tell us what set room you're most hoping to see at the Ender's Game Fan Experience. You MUST leave an email address that you check often or we will not have any means of contacting you, but please do NOT leave your address in the comment.
This giveaway will end on SATURDAY, JULY 14, 2013 at 12 AM Eastern Time. Winners will be drawn at random the next day. Winners will have SIX hours to claim their tickets before alternate winners are chosen as quick turnaround is required for this giveaway. After commenting, you can enter two additional times with Facebook or Twitter. All entries will need to be entered in the Rafflecopter widget below to be in the drawing pool.
These tickets are NON-TRANSFERABLE once claimed.
Here's what the Experience will feature:
Exclusive Fan Experience – Attendees will be able to visit an elaborate, specially constructed ENDER'S GAME exhibit outside of the Hilton Gaslamp, featuring 8 unique rooms representing the most iconic environments of Ender's world, complete with original film props and set pieces used in the movie. Throughout the experience, attendees will be able to see exclusive film footage on LED screens, interact with new digital content, integrate photos of themselves into the highly anticipated Battle Room, and register to win a home make over.
Big thanks to Summit Entertainment for sponsoring this giveaway!