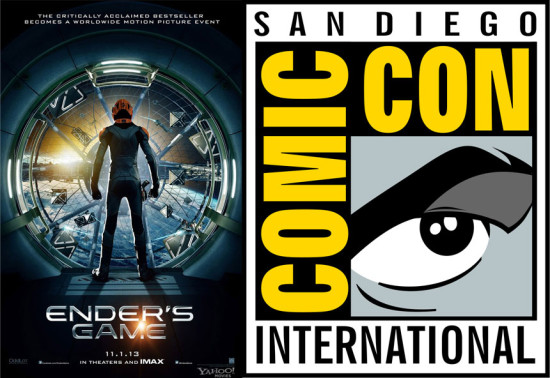 Comic Con International has released the schedule for Friday, July 19. While the attention may be focused on the star-studded panel scheduled for Thursday, there are two Ender's Game related panels scheduled for Friday.
A panel for various professionals in the art department for films will take place from 12:30 to 1:30 in Room 24ABC and includes Ender's Game art director Clint Wallace.
The Feature Film Art Department: The Art of Collaboration-and the Collaboration of Artists

How do as few as five – or as many as 50 – artists work together to create a coherent, believable world in which to stage the action of the modern motion picture? Members of the art department of Captain America: First Avenger discuss working on the film in Los Angeles while the film was shooting in London. Panelists include moderator and supervising art director John Dexter (also Pirates of the Caribbean 2 & 3), conceptual model maker Jeff Frost (Star Trek Into Darkness), lead vehicle designer Daniel Simon (Tron: Uprising), graphic designer Karen TenEyck (The Lone Ranger), and set designer and assistant art director Clint Wallace (Men in Black 3, Enders Game as art director).
Another panel in the same room will feature costume designers including Alan Villanueva from Ender's Game.
Welcome to the New Age

Top costume illustrators from the Costume Designers Guild IATSE Local 892 talk about their latest projects and the changing world of illustration in the digital and 3D age, followed by a Q&A. Featured panelists are Keith Christensen (Man of Steel, Star Wars 7, Tomorrowland), Phillip Boutte Jr. (Hunger Games: Catching Fire, Man of Steel), Constantine Sekeris (Star Trek, G.I. Joe: Retaliation), Alan Villanueva (Oz, the Great & Powerful, Enders Game, Defiance), and Christian Cordella (Captain America 2: The Winter Soldier, Oblivion, 300: Rise of an Empire). Moderated by author Peter Clines (Ex-Heros, Ex-Patriots).