Last week we got a great new image of Ender Wiggin in the Battle Room, presumably it's his first time in the Battle Room because he's wearing a yellow helmet, which we've all guessed is the official Launchie uniform color.
Now thanks to a hi-res version of the image, we get a better view of the look on Graff's face as he watches Ender hang on to the handholds outside the gate. He's clearly smiling, or at least looking at him with admiration.
I didn't comment much on this last week, but looking at this closer up, I do love the statement this image makes about the "technology" of Ender's Game because Ender floats just a few feet away from Graff, who is clearly standing in a hallway with gravity.
Whether or not this is possible at all, I'll leave up to the people who know science. I still think it lends some cool factor to the world they live in.
It's also easier to see the flash suit (click for larger size):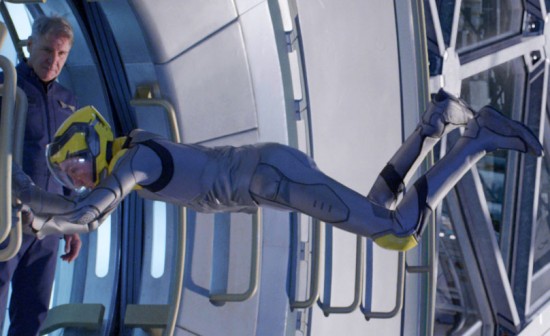 View the full image below or in the gallery.