Even with two kids and more blogs than I know what to do with, I clearly have nothing better to do than to think up ways to show what a ridiculous fangirl I can be. Last week, while trying to figure out a way to save money on those silly little stickers my daughter is always begging me to buy her, I decided to look up whether you can print your own nail decals. Turns out, you definitely can.
I ordered a set and then the Ender's Game part of my brain started churning and this happened: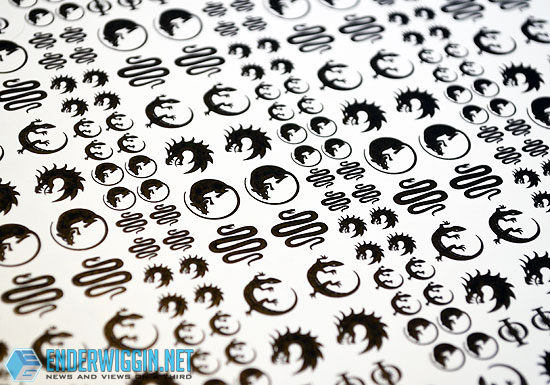 I made teeny ones for smaller fingers and bigger ones for thumbs, with the little ones being 1/4 inch and the thumbs being 1/2 inch.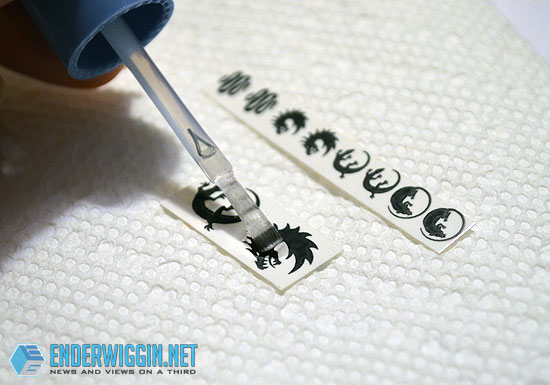 The next step is to coat the printout with clear nail polish, though this became tricky as the ink began to run with strokes. I had to dab and will have to look into just getting an acrylic spray for the whole sheet. I waited for it to dry and painted my nails in various Battle School colors: orange, blue, red, green.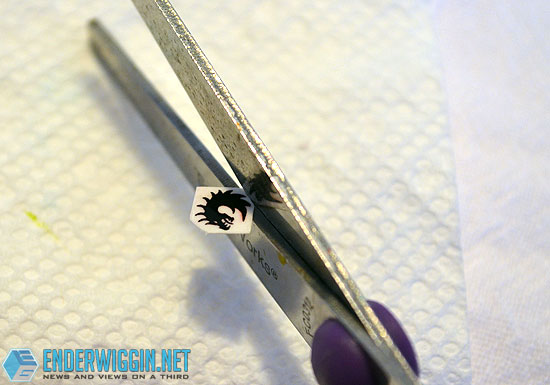 Once they were dry I cut the edges off. Actually, I got lazy on the second hand and left the corners, but you'll be able to see why this is a bad idea.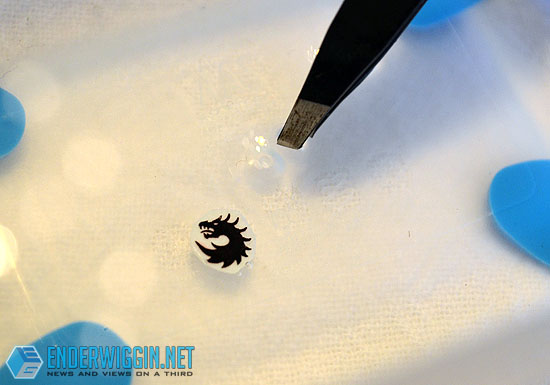 Next, submerge it in a bit of warm water. Once the paper backing is soaked, you can remove it from the water to a paper towel and gently peel it off the paper.
Here's the tiny little decal ready to put on a nail.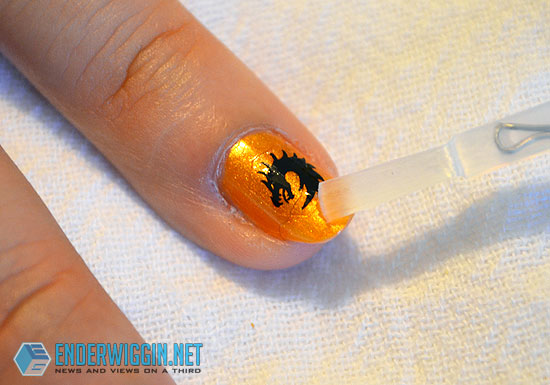 Flatten the decal down and then paint over with clear polish.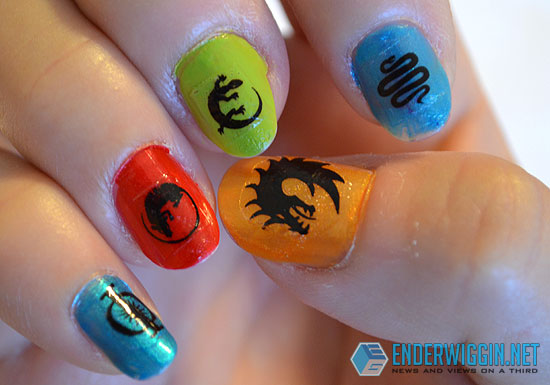 Here's my right hand and you can see the corners on the three small army nails. Definitely take the time to cut the corners off! And yes, I know, my nails are kind of sad looking. I only just recently grew them out after like 30 years and my daughter's constant scolding. I don't know why but I had the hardest time with the IF decals and they both went on horribly crooked.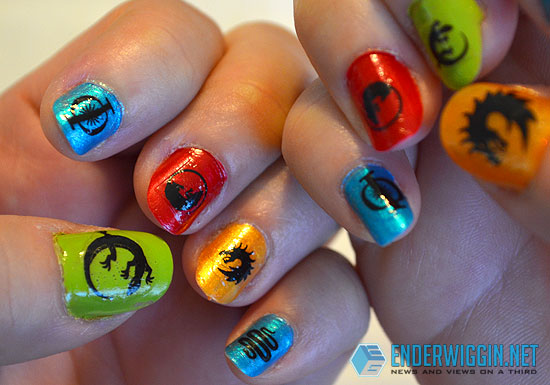 My first attempt on my left hand was ridiculous. I made the Rat and Asp upside down, but the Dragon looked okay. All in all, it's pretty close to what I'd envisioned. Petra Arkanian would scream in horror, no doubt.
I'm hoping to take the thumbnail sizes with me to Comic Con and anyone who can find me while I'm waiting in the Hall H line can get a Battle School thumbnail. If you're willing to give me a thumbs up pose for the EnderWiggin.net Instagram, that'd be sweet!