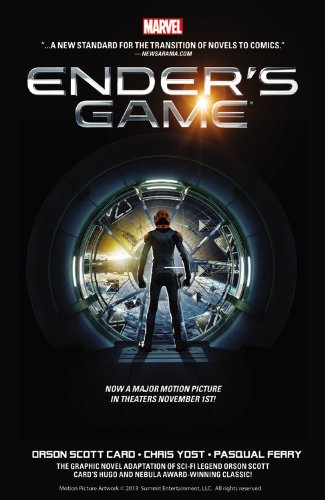 The Ender's Game graphic novel, which collects 10 comics for Ender's Game, will be re-released in September with a movie tie-in cover.
You can pre-order the movie tie-in version on Amazon for $21.15 or from Barnes & Noble for $20.72.
The graphic novel will be released on September 17, 2013.
Official synopsis:
Andrew "Ender" Wiggin is 6 years old, bullied, resented and alone. And he might be humanity's only hope. Ender is recruited to the International Fleet's child warriors in training, to fight in defense of the planet. His promise is high, and his teachers are sure he will rise to the test – if Battle School doesn't kill him first! As young Ender rises through the ranks, he struggles to find tranquility, humanity and a connection with something greater than the brutal mechanics of war and strategy. But when he is thrust into Command School at a vastly accelerated pace, will he crack up on the road to becoming the hero that the human race so desperately needs? Sci-fi legend Orson Scott Card's award-winning classic is brought to life!

COLLECTING: Ender 's Game : Battle School 1-5, Ender's Game: Comm and School 1-5