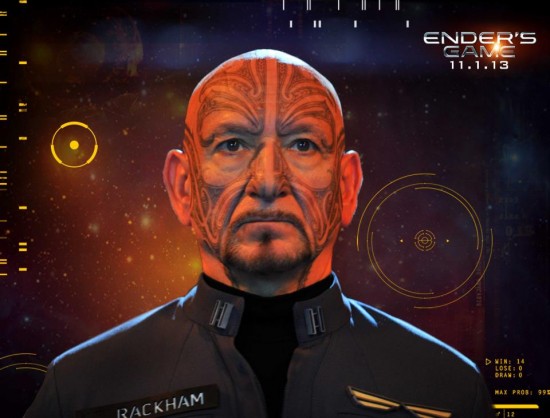 With the trailer just five days away, the digital marketing for Ender's Game is certainly heating up, with a Google+ Hangout planned with director Gavin Hood, producer Bob Orci, and star Asa Butterfield to attend. I'm happy to announce that I will also be part of the hangout along with a few of my fellow fansite admins to do a Q&A with the "fleet".
Yesterday, EW.com gave us the first look at Mazer Rackham and today Summit has just published a different version of what appears to be the same image with one vital difference.
There's a digital battle screen behind him! You can see on the bottom right a Win/Loss score (with no losses!) and targets for various star systems on the screen. Perhaps this is a glimpse of Ender's Eros simulator?
Post your thoughts in the comments!