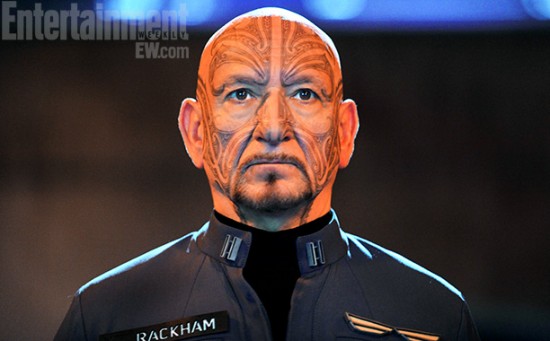 In anticipation of the trailer's global debut next week on May 7, Summit/Lionsgate has given EW.com the exclusive first look at Sir Ben Kingsley as Mazer Rackham.
As many book fans know, the character of Mazer is actually a book twist, but the film doesn't seem to be going this route since Mazer is mentioned in the official synopsis.
In the near future, a hostile alien race (called the Formics) have attacked Earth. If not for the legendary heroics of International Fleet Commander, Mazer Rackham (Ben Kingsley), all would have been lost. In preparation for the next attack, the highly esteemed Colonel Graff (Harrison Ford) and the International Military are training only the best young children to find the future Mazer. Ender Wiggin (Asa Butterfield), a shy, but strategically brilliant boy is pulled out of his school to join the elite.

Arriving at Battle School, Ender quickly and easily masters increasingly difficult war games, distinguishing himself and winning respect amongst his peers. Ender is soon ordained by Graff as the military's next great hope, resulting in his promotion to Command School. Once there, he's trained by Mazer Rackham, himself, to lead his fellow soldiers into an epic battle that will determine the future of Earth and save the human race.
EW spoke to Ben Kingsley a bit about the role.
Director and co-writer Gavin Hood (X-Men Origins: Wolverine) was key, according to Kingsley, as was the  make-up and  costume team working with Kingsley to breathe life into the half-Maori war hero, who is an almost mythical presence in Orson Scott Card's 1980s bestseller.

"In the script, which I think is beautifully written, what come across is the authority and mystery," Kingsley said of Rackham, a man who saved earth once and may have to do it again. "There's quite a lot said about him in the story  before you see him — by the recruits and by his fellow officers — and that's useful as far as preparations."
Source: EW.com