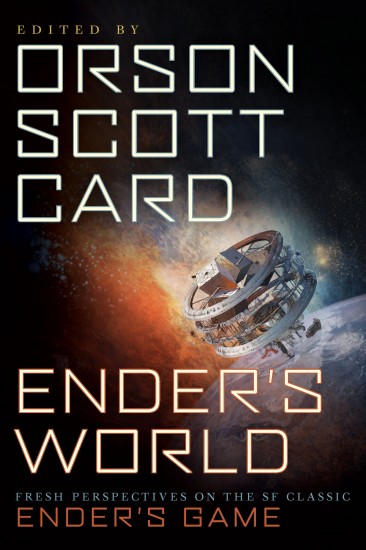 Today is the release date for Ender's World, an anthology of essays written by various authors about Ender's Game. I'm still picking my way through the book and will hopefully have a review ready this week. Keep reading to find out how you can enter to win a free copy from EnderWiggin.net and Smart Pop Books!
Here's a synopsis:
Go deeper into the complexities of Orson Scott Card's classic novel with science fiction and fantasy writers, YA authors, military strategists, including:

Ender prequel series coauthor Aaron Johnston on Ender and the evolution of the child hero
Burn Notice creator Matt Nix on Ender's Game as a guide to life
Hugo award–winning writer Mary Robinette Kowal on how Ender's Game gets away with breaking all the (literary) rules
Retired US Air Force Colonel Tom Ruby on what the military could learn from Ender about leadership
Bestselling YA author Neal Shusterman on the ambivalence toward survival that lies at the heart of Ender's story

Plus pieces by:

Hilari Bell
John Brown
Mette Ivie Harrison
Janis Ian
Alethea Kontis
David Lubar and Alison S. Myers
John F. Schmitt
Ken Scholes
Eric James Stone

Also includes never-before-seen content from Orson Scott Card on the writing and evolution of the events in Ender's Game, from the design of Battle School to the mindset of the pilots who sacrificed themselves in humanity's fight against the formics.
Free excerpts from the book can be found here.
If you're interested in winning a free copy, simply comment on this post and tell me what part of the book you're most looking forward to reading. Is it a particular author's take? Is it the new content by Orson Scott Card? Or do you simply eat up anything Ender's Game?
After you've commented, log in your entry in the Rafflecopter widget below. This will enable you to get extra entries through other methods. I do check anyone who enters via comments and if you win and there's no comment by you, I draw someone else, so no cheating!