"Ender," said Alai.

Ender turned around. Alai was holding a little piece of paper.

"What is it?"

Alai looked up at him. "Don't you know? This was on your bed. You must have sat on it."

Ender took it from him.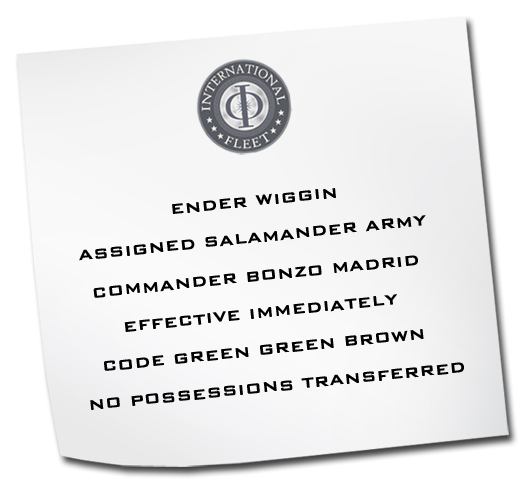 "I don't want to go," he said.
(above is a fan-created image by EnderWiggin.net)
It's been a long time since our very first glimpse at the Ender's Game movie and I'm very happy to announce that those of you that have been patiently (and impatiently!) waiting for the next release need wait no longer.
Tomorrow at 1100 Eastern, return to EnderWiggin.net for a fansite-exclusive first look at the second still from Ender's Game, which will feature a new still with an expanded look at the Battle School. However, to tease what's coming, we've got something really special to reveal.
Today the four Ender's Game fansites that flew to New Orleans, Louisiana to visit the set of Ender's Game last May are exclusively presenting to fans four Battle School army logos.
EnderWiggin.net is very excited to give you an exclusive first look at the official SALAMANDER ARMY logo from the Ender's Game movie: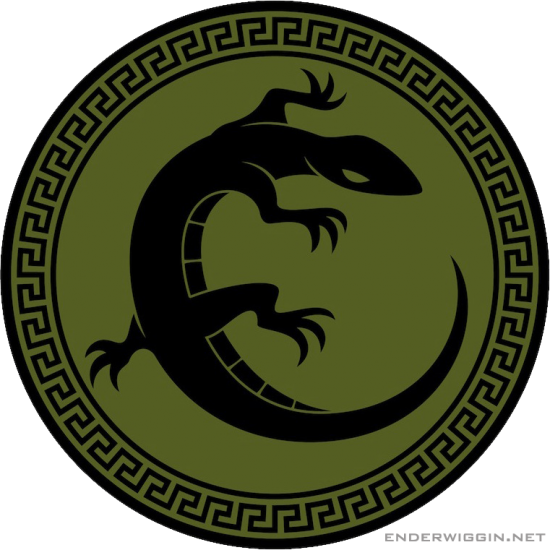 To see the other three logos head over to:
Don't forget to return tomorrow at 1100 Eastern time for your first look at the second still from Ender's Game. You won't want to miss this!
In the meantime, be sure to follow EnderWiggin.net!
If you've been looking for an Ender's Game podcast, be sure to check out the podcast EnderCast, which I co-host with Kelly from Ender News.