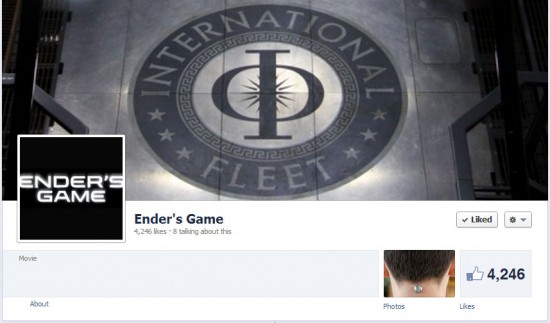 Update: Summit recently changed their Facebook username to EndersGame. Link has been updated.
On Wednesday, when Entertainment Weekly posted the first official still and interview with director Gavin Hood, they also mentioned the official Ender's Game Movie page on Facebook.
At the time I clicked the link, there were only 22 other fans, so I admit being a bit skeptical about it being official. I did, however, confirm with Summit that this will be their official page and as you can see, as of today they're over 4,200 fans strong and I simply got to the page when it was just a lil' baby. In the coming weeks, we'll probably also get to see an official website and Twitter account.
I find Facebook movie pages to be a fascinating topic, since Facebook is undeniably an incredibly powerful marketing tool for movie studios these days, so it'll be interesting to watch the growth rate of the page as the weeks go by and we edge closer and closer to more stills, trailers, and undoubtedly a strong presence at Comic Con.
So what can we expect to learn by watching the number of fans on the official page? For one thing, we'd get a feel of the amount of Ender's Game fans that use Facebook. I do think that the chances are good that the page will see massive success, simply because Young Adult novel adaptations tend to have very strong Facebook numbers and Ender's Game does fall into the YA category (despite what NPR thinks). Some balloon exponentially without explanation and others struggle to crack the 1M barrier.
There are a wealth of YA movies coming to the big screen in 2013 and so Ender's Game is heading into a rather packed year for young adult book adaptations.
Beautiful Creatures (which stars Viola Davis too!) February 2013 (51,000 fans)
Warm Bodies February 2013 (148,000 fans)
Stephenie Meyer's The Host March 2013 (37,000 fans)
Percy Jackson: Sea of Monsters March 2013
The Mortal Instruments: The City of Bones August 2013 (210,000 fans)
The Hunger Games: Catching Fire November 2013 (8.4 million fans)
Note the major difference between all the titles on the list and The Hunger Games. It sounds almost impossible to achieve, but I've seen it for myself with The Hunger Games.  Back in around May 2011, The Hunger Games movie page was somewhere around 70,000 to 80,000 Facebook fans. On July 4, 2011 they hit 100,000. On August 25, they hit 150,000. On September 13, they hit 200,000.
Keep in mind this was only six months before the movie premiered. When March rolled around, the Facebook page had ballooned exponentially to 3.5 million. And even with the 8.4 million it has today, it's still nowhere close to Harry Potter (53 million) or The Twilight Saga (36 million).
Before we get all excited though, it should be noted that Ender's Game probably has a much smaller readership. The Hunger Games trilogy has 50 million copies in print and Harry Potter something ridiculous like 450 million copies, while the most current number I can find for Ender's Game is 2 million in 2009. Someone can correct me if I'm wrong.
Still, the book page for Ender's Game has a very healthy 430,000 fans and paperback copies of the book were handed out to fans camping out at the Breaking Dawn Part 2 premiere, indicating that Summit is fully aware of the need for cross-promotion. The success of their Facebook page will likely depend on whether they can bring in new fans and readers, since people who enjoy young adult literature are always looking for the next awesome series to read.
With the same studio behind Twilight and The Hunger Games marketing Ender's Game, I definitely think it can crack the 1M barrier by drawing in a lot of new readers and movie fans. Who knows where it can go from there, but I'm hopeful about its chances.
Help them grow by liking the official movie page today. (and while you're at it, EnderWiggin.net too!)