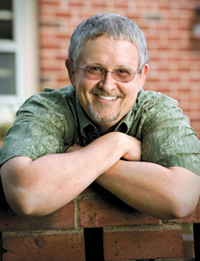 Orson Scott Card, author of Ender's Game and the upcoming new novel Earth Unaware, will be appearing on a panel at the 2012 San Diego Comic Con on Saturday, July 14 from 3:00 to 4:00 PM in room Room 23ABC.
The panel, titled "A Wrinkle in Time", will feature numerous science fiction authors as they discuss their thoughts about imagining storylines in other dimensions.
A Wrinkle in Time— "To boldly go where no man has gone before" is the phrase that has greeted many of us who have looked to the heavens in awe. From the far-flung reaches of the Milky Way to the mind-bending possibilities of time travel, let the authors of speculative fiction tell you what they see when they venture to other dimensions. Board a starship to the future with David Brin (Existence), Deborah Harkness (Shadow of Night), Michael Cassutt (co-author of Heaven's Shadow trilogy),Charles Yu (Sorry Please Thank You), Phil Hornshaw (co-author of So You Created a Wormhole), Peter F. Hamilton (The Nano Flower), Orson Scott Card (Earth Unaware, Ender's Game), and Hope Larson (A Wrinkle in Time graphic novel), captained byMaryelizabeth Hart of Mysterious Galaxy.
Source: Comic-Con.org