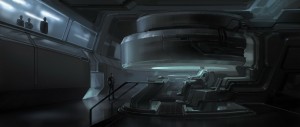 UPDATE: Summit has confirmed that Ben Procter sketched this fan art years before the production of Ender's Game began, so this is indeed fan art and not official concept art.
Thanks to the internet sleuthing skills of Darian Robbins, fans can take a look at the artwork of a "professional fan", Ben Procter, who coincidentally went on to become a production designer for the film adaptation of Ender's Game.
Found in Ben Procter's online gallery and tagged as "Personal", this image is named "Ender's Sketching Space Command Simulator Deck" with the tagline "Sketch of a scene from the classic scifi novel "Ender's Game"."
There are no upload dates on these images, so it's impossible to tell at what point it was uploaded to his gallery or when it was drawn, but his work specific to actual projects are tagged as such (Avatar, Tron, Transformers), which is why it seems more likely to be art he produced on his own before becoming attached to the project in an official capacity.
That being said, what do you think of the simulator he drew? Is it as you'd imagined for Ender's final exam? And more importantly, does the quality of Ben Proctor's artwork make you confident his official designs will be nothing short of amazing?
Source: Ben Procter via Art of Darian and Ender's Ansible