It's already been made clear by early casting calls for the film adaptation of Ender's Game that Ender has been aged up from 5 to 10.
Obviously, finding the right five year-old actor to portray the child genius Andrew could have kept the movie in limbo for yet another 20 years no matter how strong the script, so aging him up is an understandable change to a science fiction classic that has been a favorite of readers for decades.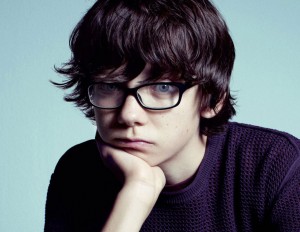 Still, when it was announced that Asa Butterfield had been offered the key role, I have to admit I had reservations. Sure, he looked the part of an older Ender, but could he play the younger Ender as well?
Pictured right, Butterfield looks like a teenager. It's moderately difficult to see how this young man could pull off being so young. Past pivotal young male roles were cast pretty close to their character's ages. Haley Joel Osment was 10 when he filmed The Sixth Sense and his character was 9 years old. Macaulay Culkin was 9 when he played 8 year-old Kevin McCallister. Butterfield looked very young in Hugo, but his character was twelve years old.
Fourteen years old when he was cast and just recently turned fifteen this April, could Asa Butterfield be made to look like he is a young 10 year-old boy? Photos posted to Twitter today seem to support that the answer to that is a convincing yes.
This photo was posted by Asa Butterfield (left) and Aramis Knight (Bean, right) today and Asa does look a lot younger with his military hairstyle, though it could be the angle and camera filter playing tricks on the eyes. It could just be the expression on his face.
What do you think, folks? Does he look like he can pull off 10 years old? After seeing the photos posted today, my reservations have definitely begun to fade away.
Hopefully we'll get a real photo of Ender soon. Everyone cross your fingers for next week!
View more photos below: