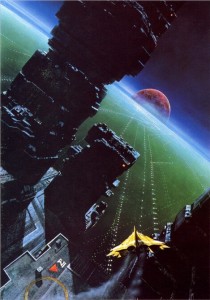 Reports of last week's open casting call in New Orleans for Ender's Game sounded a little less crowded than you'd expect, which is probably why the producers are holding another open call today in Chalmette. The age range has been expanded to include young adults from ages 12-21.
While what I read about the open call was rather disappointing, I'm honestly not surprised.
Sure, I'd love to have my own kids be in a background role in a movie, but with 8 weeks of filming and the need for lots of background kids for the Battle School, I would flat out not allow it, even if I'm a huge fan of the book and want to see my kids in it.
It's just too long to be out of school, which explains why they're looking for homeschooled children and even that's got to be hard to cast because how many budding child actors are homeschooled and living in NOLA?
The Battle School hosts a massive amount of child soldiers, but the producers could probably get away with re-using kids for the different armies by simply putting them in different uniforms. Still, this puts a strain on the kids.
Details for the casting call are below:
Date: Thursday, January 19
Time: 3:30 to 6:30 p.m.
Place: Chalmette Council Chambers
8201 West Judge Perez Drive
What to bring: A recent snapshot
Source: NOLA.com