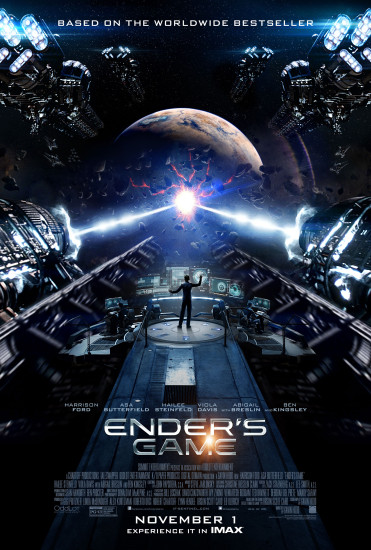 Review by EnderWiggin.net founder Crystal Watanabe
Yesterday I had the amazing pleasure of watching the result of years of hard work by Gavin Hood and his amazing cast and crew after covering my very first red carpet premiere. For the last week I'd been half-reading reviews, scrolling through one-line Twitter reviews, and going through a hand-wringing roller coaster of anticipation and apprehension.
I've talked a lot with Kelly from Ender News about the mutually shared terror that we might have done all this work only to hate the movie. When I saw The Hunger Games at the world premiere last year, I left the Nokia with the dull buzz of disappointment in my head as everyone around me raved about the movie. I never really truly got over that opinion and so going into Ender's Game, I had no illusions about the fact that I might actually end up in a moody funk at the after party.
Fortunately, I had nothing to worry about.
The Good
The first thing I have to say that it was a dream come true to watch Ender's Game sitting next to my Ender BFF Kelly, so Summit Entertainment has my sincerest thanks for inviting us to the screening, giving us carpet access, and inviting us to hang out afterwards as well. When you share your geeky hopes and dreams about a movie for 36 weeks on a podcast, you really start to cling to the idea of experiencing the movie for the first time with that person.
Thankfully, Kelly is a movie-talker too because we were constantly leaning over to say things to each other. At one point, she whispered in my ear, "This is surprisingly good! I'm really enjoying myself!" and I could only say, "I know! Me too!"
I don't know why we went in with so much apprehension. Perhaps it's because we'd heard a bad vibe from Germany. Maybe it was the fact that Gavin Hood recognized us on the carpet right away and came at us like Chunk in Goonies, sure that he was in trouble because he thought we'd already seen it. Either way, we were happy and once again found ourselves on the same level of thought.
I think what surprised me the most was how light-hearted and funny the movie was. With the cast focusing their interviews on the serious aspects of the movie, it was easy to walk in assuming it was going to to be strictly saving the world business the entire time. When you get down to it though, the movie still stars kids and with kids being kids, there were quite a few laughs. There's one particular line of Bean's that was truly hysterical and made the whole theater crack up laughing.
I know some people hate voiceover, but with the majority of Ender's Game taking place inside Ender's head, Gavin Hood needed some kind of method of getting inside his head. To do this he had Asa do voiceover of emails Ender writes to Valentine. These occur throughout the film and I felt it helped to really move the story along. Without it, I think fresh viewers would have been extremely confused.
The Mind Game was beautiful, though parts of it were excised. I'd seen a lot of concept art from it in the official companion and on screen it looked great. And seriously, Gavin Hood's giant is one of the most epic director cameos ever.
The Bad
I think Orson Scott Card summed up the bad the best when he recently spoke to a newspaper in New Zealand and said that the movie "rockets along at a breakneck pace". The movie clocks in at under two hours, which, if I'm being honest, shocked me and so I went in expecting to feel like I was watching the movie on fast forward.
The film definitely suffered from a rushed feeling and I'd really love to see an extended version released because I really did feel like some parts could have benefited from just a couple of more minutes here and there. I had this odd feeling throughout the movie like I was seeing the movie through some weird movie version of parent goggles and that people walking into this movie without reading the book would find that while the acting, visuals, and sets were simply stunning, it was all just going too fast. But then again, perhaps the feeling of urgency is easier to accept without prior book bias.
For diehard book fans, change will probably be the hardest thing to swallow.
Since I had the chance to go to the Ender's Game set, talk extensively with the people behind the movie, and have interacted with the cast over the last two years, I feel like I've been inoculated to the changes that were going to be coming at me in the movie. With that in mind, it's possible that because of this I was more accepting of changes that may be stark and jarring for fans just hearing about the movie last month and going to the theater to see what's up with their favorite book from high school.
Knowing as much as I did, there were more changes I did not know about and while I felt they were all necessary for the film Gavin Hood made, I think some fans will find it hard to swallow. One in particular is on the subject I'd brought up last year on the death of Stilson.
In Pondering the Fate of Stilson, I laid out why I didn't think Stilson needed to die and why I felt like his death was too dangerous a message to send out on the big screen. Response was almost 100% against me. Everyone felt that Stilson had to die, even though I argued in discussions that since Ender didn't know it happened until years later, it didn't have any bearing on his development as a character.
People can argue with me until they're blue in the face; I will never be convinced that reading about a child's death is equal to watching a child die in a movie. The two are completely different forms of media and what a pre-teen or teen imagines while reading a scene such as Ender and Stilson's fight will range anywhere from tame to excessively violent depending on the individual and you can't put a fight to the death on screen and expect that wide spectrum of youth to experience a single visual vision the same way.
In the movie, it is never specifically said that Stilson or Bonzo die; their fates are left ambiguous and most moviegoers that haven't read the book will assume that they live. This is a choice that I fully agree with. The risks the studio would have taken sending that kind of message out on the subject of bullying was not one they should be expected to take. Bullying is a serious, serious issue with today's youth and justifying Ender's actions that led to another child's death would have been stepping over a line no book fan should expect to be crossed for the sake of a film adaptation. Ender lives in an extreme situation, but you can't assume everyone will fully understand that, especially when a lot of people will see this movie without having read the book.
In the end, my advice to fans is to go in with an open mind.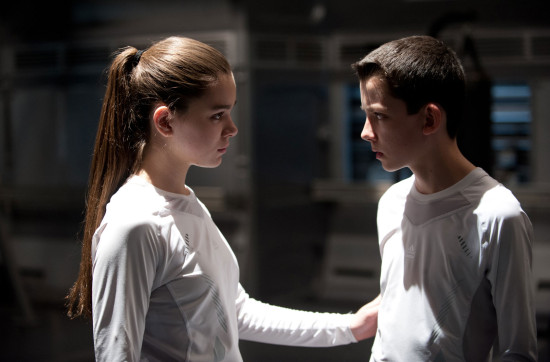 One last thing that can fall into the bad category (and yet not) is the relationship between Petra and Ender. The cast, director, and producers talked a good deal about their friendship and how drawn they are together as friends, but the fact of the matter is that there is an underlying connection between the two of them that hints at something more.
From the things Petra says to Ender to the way they smile at each other while training to the mysterious way Petra sits while talking to Ender from her room on Eros, that teen love interest angle is very carefully there.
That being said, it doesn't come across as a bad thing. These kids are, after all, at that age and to excise even a hint of young love completely would have probably felt a little too rigid and made Ender seem unrelatable to teens his own age. If Ender had been 8 having a crush on a 12 year-old Petra, then I can see there being a valid argument, but as the movie stands, what they did felt appropriate.
The Awesome
Asa Butterfield is an amazing Ender. I did catch one time where his American accent seemed to slip slightly, but other than that, I was very impressed with his performance. His smile makes you happy and sad at the same time, but when Ender is crying you get to see the emotional core of the Ender that book fans know and love. I never really felt like I was watching Asa Butterfield. I felt like I was watching Ender Wiggin.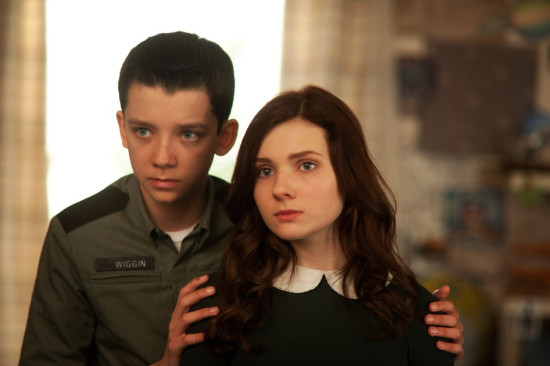 On a similar note, I'd read criticism that Abigail Breslin is underutilized, but I was surprised at how well she pulled off the character of Valentine with practically nothing being said about how intelligent she really was. From her clothing to the way she walked and talked, she felt like Valentine to me.
Peter did not have much screen time, but Jimmy Jax Pinchak pulled off the character really well. One of my favorite Peter scenes in the book wasn't present, but I didn't even notice. Seeing Jimmy at the after party in a suit and tie wearing glasses was like a knock in the face. I was like, wow, the movie's over and here's Peter Wiggin the Hegemon! It was surreal in an amusing book nerd kind of way.
The Battle Room was grand and at one point I just wanted to blurt out, "LOOK at that Battle Room!" Graff's hook was really cool and the way these kids hit the stars made me cringe every time. When we interviewed the kids on the carpet, we usually asked them their favorite scene and a lot of them went straight to the Battle Room. They weren't wrong as the battles were amazing to watch in such an amazing arena.
The only drawback was that before you know it, the Battle Room scenes are over. However, when you have the director telling you that some 3 second shots cost $100,000 to produce, it puts the lack of more Battle Room into perspective. Gavin told us he did try for more, so we'll all have to trust that the did what he could.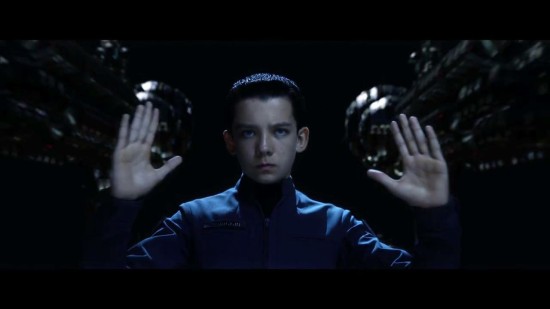 The impressiveness of the Battle Room aside, what amazed me the most in terms of VFX was Ender's simulator on Eros. We were lucky enough to be able to stand on that platform that Ender stands at and it was in this gigantic green screen room. I remember standing there looking up and just being in awe over what they were going for and I wasn't disappointed. Being a former hardcore MMO gamer, I loved the look of happy awe on Ender's face as he saw what they'd set up for him.
In terms of writing, I loved the way Gavin wrote the final reveal to Ender. The scene that follows his last victory is sad, tragic, and emotional in all the ways you expect it to be with Asa Butterfield's Ender. I also loved how he tied the Battle Room into the finale because it was an issue I'd always had trouble understanding with the book.
I got to talk to Gavin about it at the after party and he said the same thing: how do you explain the correlation of such rigorous physical training from the Battle Room to pure simulation, basically kids sitting on their butts playing "games" all day, in Command School? I thought how he explained that on film was a great choice in storytelling.
Overall, I thought the film was an amazing accomplishment and one kick ass ride. The cast turned out great performances and I'm proud and happy for all of the kids who stood around Ender making him who he is. Throughout the entire movie I kept thinking to myself: I have to see this again. I have to see this again. And I will.
Some fans will enjoy it, others may walk away disappointed. But what's particularly exhilarating for me is that it's finally here. My mother gave me this book twenty three years ago and as soon as I finished it, I could only wait for a movie to be made.
I waited a long time.