Last week we told you about Ender's Game: Battle School, a board game to be released by Cryptozoic. Now we have a hi-res version of the image Cryptozoic is using to advertise their new game. You can even read the words on the cards! Click the image for the hi-res version.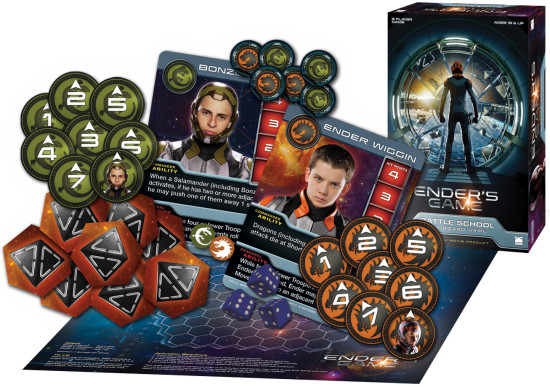 In case you don't remember, here is the description of the game again:
Ender's Game: Battle School is a two-player game set in the zero-gravity arena of the International Fleet's Battle School.  Players take the role of either Ender Wiggin and the Dragon Team or Bonzo Madrid and the Salamander Team, and then use Commander cards with special abilities (some for the whole team, some that only help the commander) to attempt to capture the other team's gates or freeze opposing team players with laser-light guns.  The player who completes either of the goals first (capturing all the gates or freezing the opposing commander) wins.
Source: Board Game Geek