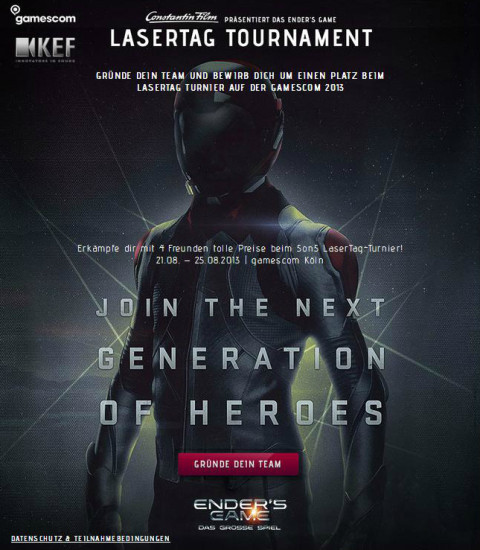 German movie distributor Constantin Film is organizing an Ender's Game inspired laser tag tournament for Gamescom 2013 taking place August 21-25 in Cologne. Gamescom is the world's largest games event/trade fair and is regularly used by game and gaming hardware developers to introduce new and exclusive products. Check out their website HERE.
For those of you who don't know any German, the graphic above reads "FOUND YOUR OWN TEAM AND APPLY FOR A SPOT AT THE 2013 GAMESCOM LASER TAG TOURNAMENT!" and "Fight together with 4 of your friends to win awesome prizes at the 5on5 Laser Tag Tournament, 21-15 August, gamescon 2013". German Ender's Game fans can pre-register for the tournament HERE.
Also, check out Constantin's (as of now still pretty slow) Ender's Game facebook page and their Ender's Game movie site.
Source: Ender's Game – Das große Spiel on Facebook