Boy, what a day. My head hurts, I still feel like I have earbuds jammed into my ears, and my back is killing me, but what a fantastic day it was anyway!
So now that we've all seen it and people are reacting, one of the most common complaints I've seen online is that Summit did that dastardly thing us moviegoers hate so much: they ruined the ending of the movie.
I'll be honest, this was my initial kneejerk reaction too. Why did they reveal that? Why blow up the climax right now? And then I came to my senses.
The only reason anyone thinks this is a spoiler is because you've read the book. When you think about it, there's really nothing in that scene to indicate that Ender knows exactly what he's doing.
In the book, Ender is using what he is told is a very sophisticated simulator. He revels in its controls and excels in commanding his soldiers to do what he feels must be done to beat his enemy. And as we all know, to Ender, his enemies in these "simulations" aren't the buggers on the screen. It's Mazer. It's Graff. It's the teachers.
In the very first interview we got with Gavin Hood way back in December when the first still came out, he was asked about the ending by Grady Smith of Entertainment Weekly:
To that end, the director promises that the book's dark ending (which I won't spoil here) has remained fully in tact. "That ending — and the complex moral questions that it raises — is one of the reasons why I love the book, " says Hood. "I promise you that it is very much there."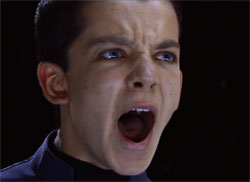 I remain confident that the trailer is in fact spoiler free. The only reason it appears to be a spoiler is because we know what it really means.
That doesn't mean that after that explosion, Ender doesn't then turn to see a crowd of cheering military brass and then learns that his worst nightmares have come to pass.
As much as I love the character of Ender, I think we'll still have to see see the pain he suffers as a result of that intense last command.
Anyone going around ranting to people about how the ending spoils the movie is… actually spoiling the movie. So stop it already!