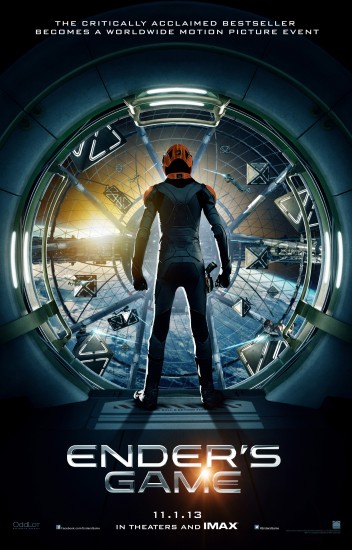 Although the trailer that debuted today at CinemaCon during Lionsgate's Product Presentation wasn't the final trailer, fans are of course dying to hear every last detail. io9 gave an amazing shot by shot description of the whole thing including the following scenes:
Footage of the First Invasion
Ender in his Salamander Army suit
Action scenes in the Battle Room
Valentine and Ender saying goodbye
Major Anderson observing kids playing baseball
A view of Eros
Mazer Rackham with Maori tattoos on his face (based on tweets)
A peek at the final battle
That sounds like enough to explode my head, but io9 remained cautious in its praise.
All in all, it's WAY too early to say much. But the action looks good, and Butterfield is a fantastic casting decision for Ender. There wasn't enough Battle Room footage shown to decide if it looked authentic or not, but it did look cool. We remain cautiously optimistic.
Be sure to read the entire recap. That is, if you're not afraid of spoilers!
I admit I'm shocked they chose to show so many things, especially from the finale, but I'm extremely excited about everything. What are your thoughts on their approach in this trailer?