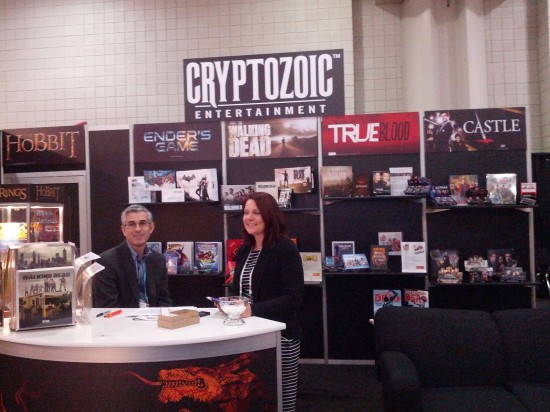 Cryptozoic Entertainment, a company that specializes in licensed games and trading card games such as their extremely popular World of Warcraft trading card game, has obtained the rights to develop a game and trading card game based on the Ender's Game movie. (confirmed by Ender News)
At the 2013 Toy Fair in New York City, which was held earlier this week, Cryptozoic had on display the tentative logo for Ender's Game on display. Unfortunately, although there are products on display under the Ender's Game sign, those don't appear to be Ender's Game related.
If you haven't bought their games in the past, their work looks really amazing judging by their current games available for The Walking Dead and the World of Warcraft TCG.
And WHAT? There are Fringe trading cards? I better not go looking for them otherwise I'll end up buying them…
So what do you guys think? Are you looking forward to playing a Battle Room board game?
Image credit: Greyhawk Grognard