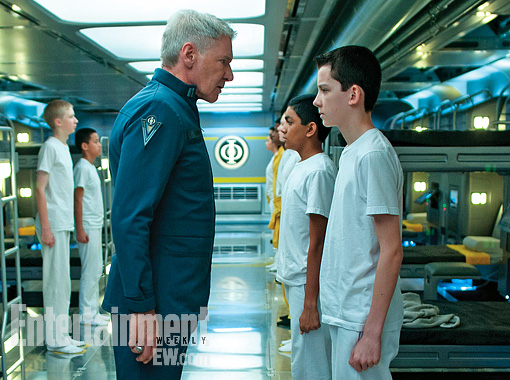 So now that Entertainment Weekly has pushed out the exclusive first look at Ender's Game, much of the world that wasn't aware that this movie is in the can and ready to come out in about 11 months is now aware and with that has come what I think some of my fellow fansite admins have been dreading along with me: people immediately declaring against the film because of author Orson Scott Card.
When I first read Ender's Game, I was probably 11 or 12 years old. I was in the sixth grade. It was around 1991 and my parents eagerly shoved it into my hands, wanting me to read their favorite book and come back to them and talk about this fascinating little boy Ender.
I couldn't help it, I was hooked. I loved Ender. He was a savior, a soldier, and unbeatable yet kind, vulnerable, and ever so small. Reading the book again earlier this year I couldn't help but look over at my six year old son and imagine what it must have been like for Mrs. Wiggin, to live in a world where your third child is "requisitioned" and can be taken away at a moment's notice with hardly any time to prepare.
My household didn't get internet until 1996, so the idea of the nets that Valentine and Peter built their reputations on seemed very high tech science fiction to my little tween brain. It also meant that I had no idea who Orson Scott Card was other than an intimidating name on a book cover I'd come to love so much.
Now that I'm firmly plugged into the internet, it's been a little rough to find out more about the real man behind the Battle School because my own beliefs really don't line up with his. Back when I started this site last year, when I first heard about Alex Kurtzmann and Bob Orci taking it on, I had to pause a minute. Did I want to do this? Did I want to create a site dedicated to a movie based on a book written by a man very vocal in the media about his anti-gay and political sentiments? In the end, it came back to Ender Wiggin.
I couldn't deny how much I loved this character Card had created. I couldn't shake off the excitement I felt 20 years ago reading about kids my age responsible for the fate of the Earth, written so well that they felt real. It's rare nowadays for me to latch on to characters in a similar way; a sure sign of a great character writer.
And so today, over a year after I started this site and over six months after I visited the set in New Orleans, I felt saddened by the comments that began popping up on EW.
I hope it tanks. OSC is an asshat.
Scott Card is a serious homophobe.  Pass.
That bigot won't be getting any of my money.
Saddened because after spending a whole day with the people behind the movie, without Orson Scott Card in sight, I found them all to be really, truly nice people just as passionate about the book as the people they'd invited onto their set. We met members of the cast and even parents of the cast. I don't know what their personal beliefs are, but they're entitled to them, just as I'm entitled to mine and Card is entitled to his. I certainly don't think any of these kids deserves to be treated as though they're Orson Scott Card himself.
So that's been a fear in the back of my mind for a while. Is this movie going to crash and burn because of its author? Will people protest the premiere? I don't really know. I certainly hope not.
To wish for this movie's failure is to wish a failure upon not just Card, but on a huge cast of young actors and a crew of hundreds. Sure, it's Card's story, but in my humble opinion, the movie "belongs" to those who made it. Their performances will make or break this movie and that's what we should be examining come next November.
So while the opinions of Orson Scott Card may not match my own, I'll continue to support this film, its cast, and its crew.
I support Ender Wiggin.