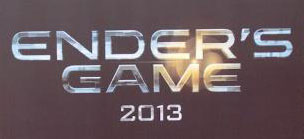 With a release date nearly 500 days away, it's no surprise that there won't be panels, big giveaways, or cast signings at SDCC this year, but that doesn't mean nothing's going on for Ender fans.
San Diego Comic Con 2012 is officially getting under way tonight with Preview Night, so here's a quick guide for people that may not have been following all the news regarding the presence of 'Ender's Game' at the con this year.
Booths to Visit
Tor (#2707) – Publisher for the Ender's Game books. They'll be hosting signings on Friday and Saturday and will be giving away five copies of Earth Unaware on Friday.
Summit Entertainment (#4029) – Movie studio producing the Ender's Game movie. They will have signage for the movie and will be giving out a small premium for Ender's Game.
Smart Pop Books (#4300) – Publisher of the upcoming book Ender's World: Fresh Perspectives on the SF Classic. They will be giving out 25 advance copies of Ender's World and giving out free copies of their preview volume, which will include one essay from the book.
Book Signings
Ender's Game author Orson Scott Card will be doing three book signings at the convention along with co-authors Aaron Johnston and Emily Card.
Friday 12 PM to 1 PM with Aaron Johnston for their book new book Earth Unaware at the Tor Booth.
Saturday 12 PM to 1 PM with Emily Card for their book Laddertop Vol. 1 at the Tor Booth
Saturday 4:30 PM to 5:30 PM with Aaron Johnston for Earth Unaware in Room 23ABC.
Panel
Orson Scott Card will be participating in the panel 'A Wrinkle in Time' in Room 23ABC from 3 PM to 4 PM on Saturday.