Keen observers on Twitter may have noticed a few new photos from the set of Ender's Game, which is nearing completion in New Orleans, Louisiana. Actor Kyle Clements (@kyle_clements) tweeted that he wrapped his Ender's Game scenes yesterday. He plays the young version of Mazer Rackham, who is played by Sir Ben Kingsley.
This is a photo of producer Bob Orci (left) talking to executive producer David Coatsworth (right) tweeted by @ManSafGo. You can see in the background that the entire area is painted green for filming!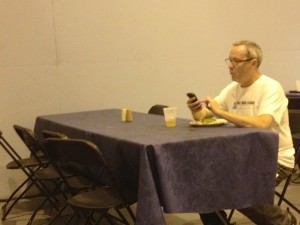 The last of these photos shows above-mentioned David Coatsworth having lunch with his phone.