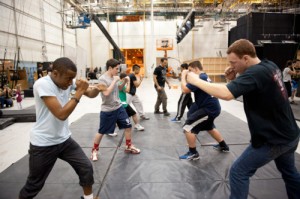 Earlier this week, I found myself standing where I never thought I'd be: on the set of Ender's Game.
As some of you may know, it's nearing the end of filming in New Orleans, Louisiana and Summit Entertainment was kind enough to give the Ender's Game fansites press access.
It was my first visit to New Orleans and I was thrilled to be there, but all the wondrous sights of the city were nothing compared to the anticipation I had about the set. It consumed my mind as my day of departure neared and I tried lots of different things to prepare myself for the visit.
Of course, I re-read Ender's Game
. I obsessed over Google maps of the set area and constantly told myself how much it was going to suck. That I would end up spending most of my day doing what I've usually done on sets while doing background work, which is sit around reading a book I brought with me to kill time. Whenever I don't want to find myself disappointed I usually build up negative anticipation about the whole thing.
I didn't, however, insult the studio by actually bringing a book with me to read. I would have brought a copy of Ender's Game in the hopes of getting it signed, only I forgot it in my hotel room, along with my notepad. Oops. Which turned out fine because they were so nice they actually gave me one to use. In the end, all my negative mood building was completely unnecessary.
I wish I could go into detail about everything and spill it all now, but unfortunately we have to keep it all in until we get closer to the movie's release. We wouldn't want you all to read it, get excited, then forget it in the tortuous 525 days left until the movie's release. The awesome part is there's so much for me to write about that I'll probably be able to split it into a 10 post series once we're given the green light to talk about it. Well, maybe not that many, but there's a lot to say. I'm frantically typing it all out so that I don't forget anything.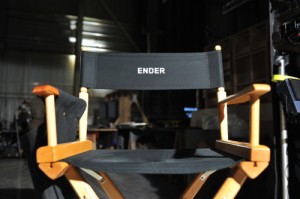 Before you guys start thinking access to the set has bought my devotion to the movie, let me just assure you that it wasn't being allowed there that has me convinced; it's what we got to see. Everything simply blew my mind and eased every concern I had with the production. Normally nothing can compare to the grandeur you imagine in your head, but they made my imagination seem small, stale, and boring in comparison.
The people we met and talked to were all so passionate about the film they were making. One of the other journalists in our group made sure to nail down personal relationships with the book right off the bat in nearly every interview and I don't recall a single person we talked to saying they hadn't read the book. They're all fans and they all love Ender just as much as we do.
Yet another great part about the visit was the opportunity to meet and get to know my fellow fansite admins from Ender's Ansible, Ender News, and Ender's Game Fansite (click to read their writeups!). In my work with The Hunger Games, I didn't get to meet all the great people I talk to every week for close to a year, so it was so nice to be able to meet everyone so early on. Funnily enough, all four of us were ladies and we had a nice little chat at the hotel the night before the visit. We also got to meet awesome people from various websites and press outlets including J-14, IGN, Nerdist, and HitFix. All of them were great to meet as well.
With a whopping 15 months to go until the world gets to see what magic they're creating over in New Orleans, it's hard to be sitting back at home frantically trying to capture in writing our wonderful experience, knowing that the finished product is so far away.
My thanks to our gracious hosts and to Summit Entertainment for making us feel so appreciated and welcome. I'm so completely excited for the year and a half to come, when stills start to surface along with posters and teasers and clips and trailers. Here at EnderWiggin.net, we'll be sure to keep you up to date with it all!