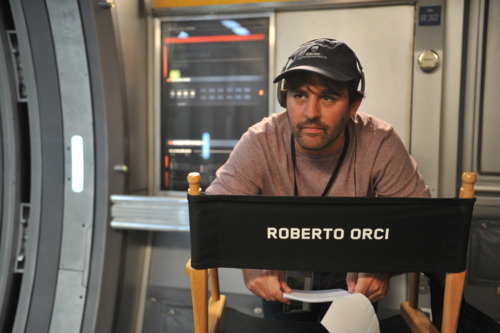 This week's image in the Ender's Game Production blog features a photo of producer Roberto Orci holding papers and hovering over his chair with a set of headphones on.
What's even more interesting, however, is what appears to be a piece of the set behind him. You can see what looks to be a curved doorway and the interface of a computer system behind him.
In addition to the usual photo and image, they've opened themselves up to questions from fans!
"I need you to be clever, Bean.  I need you to think of solutions to
problems we haven't seen yet."

In Dragon Army, Ender encourages input.  So do we.  That's why we're
opening this blog up to you, the readers.

Ask us a question about ENDER'S GAME — something you've been dying to know.  We'll select our favorites (or as many as we can) from the comments section and start answering them.
To submit a question to the makers of Ender's Game, head on over to the Ender's Game Production blog.