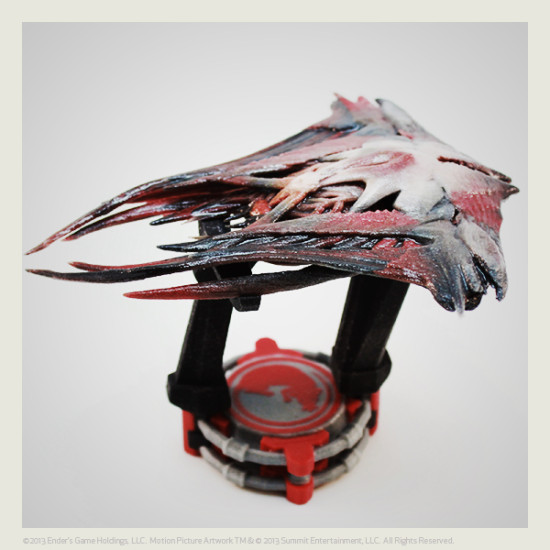 Lionsgate/Summit has issued a press release announcing a unique opportunity for Ender's Game fans to order custom 3D replicas of various ships from the Ender's Game movie.
For the First Time Fans Will Be Able To Customize and Print Their Own 3D Replicas From Summit Entertainment's ENDER'S GAME
App by Sandboxr Available for Download Prior to Theatrical Release
Salt Lake City, Utah, October 29, 2013 – Sandboxr, a 3D print and software development company from Utah, announced today its 3D print creation app for Summit Entertainment's ENDER'S GAME.  Sandboxr's 3D print creation app has been in development for the past two years, and through the ENDER'S GAME-licensed version, fans will be able to create and bring home exclusive replica battleships from the film generated by cutting-edge three-dimensional printing technology.  Fans will be able to check out the ENDER'S GAME 3D printing experience at Sandboxr.combefore Thursday's release of the movie in theatres and IMAX October 31 at 8pm. Summit Entertainment is a LIONSGATE® (NYSE: LGF) company.
Nancy Kirkpatrick, Summit's President of Worldwide Marketing, said, "This is the first 3D experience of this type to coincide with a major cinematic movie release, and Summit is excited to work with Sandboxr to offer this amazing experience and great new technology to our ENDER'S GAME fans."
At Sandboxr.com, fans of ENDER'S GAME will be able to enjoy an interactive product experience that extends their engagement with the film and that they can access from their computer. Fans can choose from a selection of CG images from the movie studio file archives and bring home their own ENDER'S GAME 3D printed spacecraft and accessories.
"With an experience as sophisticated as Sandboxr's, the challenge is to make it easy to use by the average guy or girl.  3D experiences are typically exclusive to tech savvy makers and designers.   However, we've worked hard to make a 3D printing experience that is accessible in a meaningful way to everyone. Bringing 3D design and print technology into the hands of the ENDER'S GAME fans is a thrilling opportunity for us at Sandboxr," says Berkley Frei, Sandboxr CEO.
To experience the app for yourself log onto sandboxr.com and follow the links to ENDER'S GAME.
View more samples here:
I headed over to Sandboxr to take a look at their app and it's pretty cool. Once you install it, you can customize your printing by choosing a base.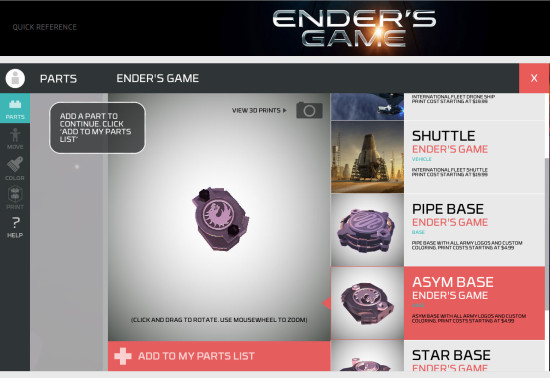 Once you add parts to your Parts List (add a base and a ship), you can move on to Color.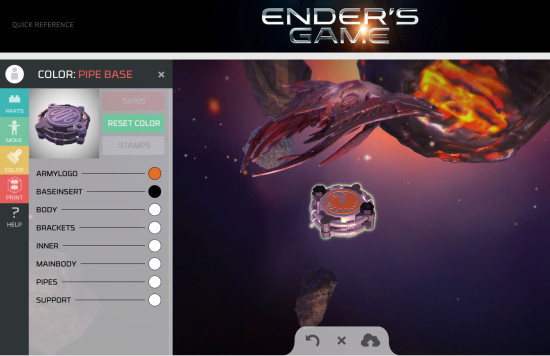 Once on the color screen you can choose the army logo you want on the base and set all the colors of the base for various parts.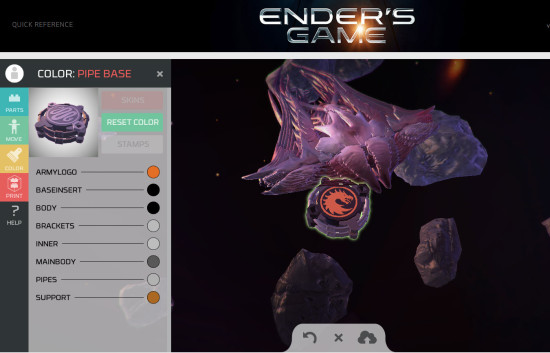 Once you've set everything how you want it, you go to Print, where you place your order. The site says to allow 3-6 weeks for printing and delivery.