Those of you that have been waiting for more information about the upcoming Ender's Game Board Game by Cryptozoic Entertainment can now have a peek at the game! Thanks to a tip from @AllUsGeeks on Twitter, who linked to ICV2.com.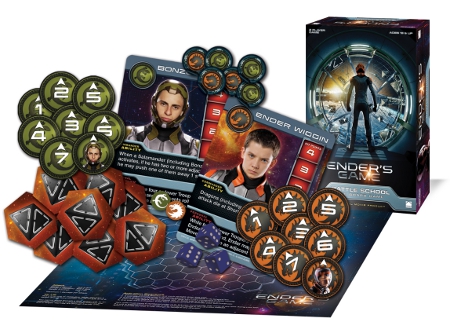 Here's a brief description of the game:
Ender's Game: Battle School is a two-player game set in the zero-gravity arena of the International Fleet's Battle School.  Players take the role of either Ender Wiggin and the Dragon Team or Bonzo Madrid and the Salamander Team, and then use Commander cards with special abilities (some for the whole team, some that only help the commander) to attempt to capture the other team's gates or freeze opposing team players with laser-light guns.  The player who completes either of the goals first (capturing all the gates or freezing the opposing commander) wins.
The MSRP will be $25.00. In addition, here is a list of what comes with the game:
22″ x 22″ Game Board
2 x oversized double-sided character cards,
16 x character pawns
12 x star terrain pieces
6 x gate terrain pieces
2 x hit point markers
4 x six-sided dice
1 x rule book
List source: Pop Cultcha