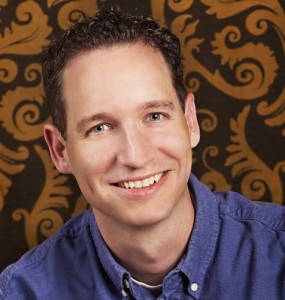 Have you been wondering exactly how one co-authors a book with Orson Scott Card?
No doubt knowing fans have been pondering this question, Aaron Johnston wrote a guest piece for Orbit Books, the UK publisher for the First Formic War series, on that very subject.
Johnston writes that he knew that if he messed up the books, which documents mankind's first encounter with the alien race called the Formics, fans would hunt him down and toilet paper his house.
I do hope that our novels will feel like they belong in the Ender universe. That was my goal from the beginning. "If we do this," I told Scott, "I want it to feel like an Orson Scott Card novel." And by that I mean: when fans read the book, I didn't want them to distinguish between the parts I had written from the parts Scott had written. I wanted it to feel seamless.
The two of them remained in constant contact after doing the initial brainstorming of the story's timeline.
When it finally came time for me to do my portion of the writing, I would write a chapter and send it to Scott, whereupon he would either make some revisions, give notes, or approve the chapter as is.

We stayed in contact throughout the writing process. We discussed the story almost daily. We invented new characters, threw out parts we agreed weren't working, took the story in new directions, revised and tweaked, and stuck essentially to the master plan.
Read his whole editorial here and don't forget to listen to EnderCast Episode 16 where we interview him and ask this question as well! He's got a lot to say and we had a great time talking to him!